While celebrities like Katy Perry and Adam Levine are pushing premium Core water, experts say few of the touted benefits are real
You may have seen Core water in any number of music videos. Katy Perry has been quoted as endorsing the nutrient enhanced bottled water, which advertises its science based ingredients. You may even have bought it at a nearby Whole Foods or 7-Eleven, where the company claims it is locally made from nearby municipal tap water.
Manufacturers of premium bottled waters in the US bend over backwards to differentiate themselves. The brand Smartwater positions itself as high-tech: We one-up mother nature by adding in electrolytes for a clean crisp taste, reads the product description. Essentia bottled water claims that it is hydration perfected.
Core, which is owned by Dr. Luke (aka Lukasz Gottwald) along with partner and bottled-beverage entrepreneur Lance Collins, relies on so-called brand investors mostly musicians, actresses and fitness buffs to push the product on social media. Musicians Becky G, Adam Levine and G.R.L. have all gone so far as to feature the drink in their music videos. (Gottwald has been most recently in the news for lawsuits brought by pop star Kesha, who is suing him in two states for sexual assault, battery and harassment.)
Water that has been fortified or enhanced also known as functional water makes up an estimated 11% of the $19.8bn dollar bottled water industry in the US. Thats a considerable chunk of the stateside market, given that functional waters make up less than 6% of the global $107bn bottled water industry, according to data from Euromonitor.
So do Core and its competitors provide a more hydrating, healthful version of water than what flows from the tap?
The short answer is no.
If youre eating a normal diet, youre not adding anything magic [by drinking these waters], says Michael Sawka, a professor at the School of Applied Physiology at Georgia Tech. Sawka studies hydration and fluid-electrolyte balance among other topics.
Cores ingredient list says its BPA-free bottles contain reverse osmosis water, calcium chloride, magnesium chloride and potassium bicarbonate. Reverse osmosis is a treatment process that removes dissolved solids, including metals and minerals, as well as pesticides and chemicals such as benzene, when they are present. Minerals such as magnesium and potassium, which also happen to function as electrolytes, are then added back in to the treated water, creating what is essentially mineral water.
The added minerals are in there for taste and preference, but not for health, Sawka says.
As far as them being more hydrating, thats not the case, says Allison Childress, a program director and instructor of nutritional sciences at Texas Tech University. Childress says its possible that waters with added electrolytes, amino acids or B vitamins could confer a slight benefit to people with poor health, but that benefit would be minimal. I dont necessarily think its harmful or hurtful, but I dont think it necessarily works the way they say it works, Childress says.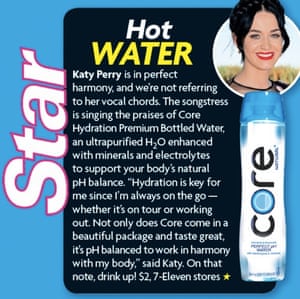 Read more: http://www.theguardian.com/lifeandstyle/2016/apr/09/dr-luke-core-bottled-water-likely-not-better-kesha
Related Reading: